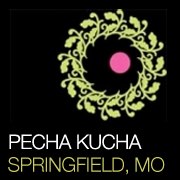 PechaKucha Night gives voice to communities that engender creativity, be it through the various mediums of art, music, design, storytelling, architecture, or philosophy. It was devised in Tokyo in February 2003 by Klein Dytham Architecture as an event for young designers to meet, network, and show their work in public. It has turned into a massive celebration, with events happening in hundreds of cities around the world. Springfield is PechaKucha's latest stop. Come see what the cult phenomena is all about as we provide prominent and emerging creative minds in this community with a forum to bounce their ideas off of one another!
Drawing its name from the Japanese term for the sound of "chit chat", PechaKucha rests on a simple and concise presentation format that keeps ideas moving at a rapid pace. Presenters have 20 slides and 20 seconds per slide to present their material. That makes for 6 minutes and 40 seconds of edifying entertainment. Despite the stuffy "presentation" moniker, PechaKucha's atmosphere is casual and lax. The idea is to come away from the event with a greater perspective and richer ideas, but most importantly, to enjoy oneself in the process.
It's time to inspire and be inspired. Springfield, meet PechaKucha.